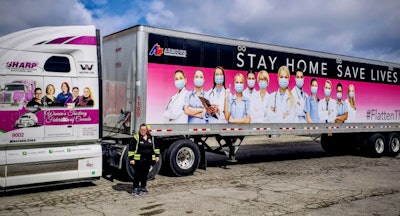 A member of the Canadian trucking industry, a group supporting women drivers and a company that makes truck and trailer wraps have teamed up to send an essential message as the COVID-19 coronavirus outbreak continues: "Stay home. Save lives."
Sharp Transportation of Cambridge, Ontario is delivering at no cost a load of hand sanitizer to Burnaby, British Columbia. At the wheel will be Shelley Uvanile-Hesch, founder and chief executive officer of the Women's Trucking Federation of Canada. The wraps on the truck and trailer are by Big Rig Wraps of Oakville, Ontario and sponsored by the WTFC.
Three more of Sharp Transportation's reefers will be wrapped in similar messages in the next several weeks.Combined, they're spreading the messages important message that key to flattening the curve and halting the spread of the COVID-19 coronavirus for people to self-isolate at home.