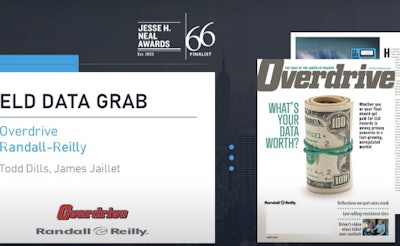 Coverage of trucking-related topics in 2019 by our sister publication Overdrive earned four prestigious Jesse H. Neal awards, which recognize exemplary work in business journalism.
Overdrive's in-depth coverage of the ELD mandate in 2019's ELD Data Grab series and driver coercion in the "Cracks in the System" package won two of the awards. Additionally, Overdrive Senior Editor Todd Dills won Best Range of Work by a Single Author – his fifth win in the category along with 2015, 2016, 2017 and 2019.
The fourth award was presented to Overdrive Editorial Director Max Heine, who won the 2020 Marianne Dekker Mattera Award, which recognizes mentors in business-to-business media.
The ELD Data Grab series won in the Best Series category. It explored how ELD vendors, fleets, brokerages and other third parties use the data produced by electronic logging devices and the absence of regulations around the data's use.
The Cracks in the System package won Best Subject-Related Package and dove into the failures, and some successes, of DOT rules meant to protect drivers against coercion and harassment by fleets, brokers and others.