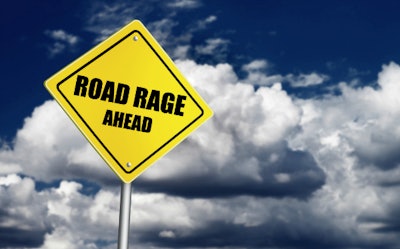 Two truckers — one in Michigan and one in Kentucky — literally dodged bullets in two separate road rage incidents recently.
On Tuesday, May 5, a trucker was northbound on the Southfield Freeway near Seven Mile Road in Detroit when a motorist fired three times at his truck, hitting the cab twice.
Jim Boggis told a Detroit TV station the driver of a Pontiac G6 was apparently upset because Boggis could not move over to allow the motorist to enter the freeway. The driver of the Pontiac eventually pulled alongside Boggis' tractor-trailer and fired three times.
Michigan State Police continue to search for the shooter. Boggis' dashcam recorded the incident.
On Sunday, May 3, Williamsburg (Kentucky) Police officers arrested 70-year-old Jerry Melton after it was determined he shot twice at a tractor-trailer southbound on Interstate 75 in Whitley County, which is about 70 miles north of Knoxville, Tennessee. Both bullets struck the sleeper berth of tractor-trailer.
Police say a road rage incident prompted the shooting but did not elaborate. The trucker driver was not identified.
Melton was charged with attempted homicide.
In yet another road rage event, one trucker threatened to beat and shoot another during an encounter on Interstate 78 in New Jersey.
On Monday, May 4, two tractor-trailers pulled off to the side of westbound I-78 in Lebanon, New Jersey.
During a confrontation between the two drivers, Daiho Guerra, 32, of Whitehall Township, New Jersey, reportedly threatened driver Osman Oways, of Columbus, Ohio, according to police. Guerra told Oways he would shoot him and threatened him with a tie-down bar from his truck, police said.
When Oways began filming the encounter with his cell phone, Guerra grabbed the phone and drove off. Guerra was arrested and charged with making terroristic threats, burglary, theft, unlawful possession of a weapon, and tampering with evidence.