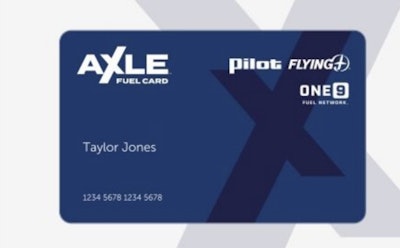 Pilot Company has launched a new fleet card, the Axle Fuel Card, that can be used for fuel purchases, truck care services, and select truck merchandise.
The card offers no transaction, account management, annual or hidden fees; money-back rewards to go toward fuel purchases; perks for drivers; Pilot Flying J Truck Care savings; and more.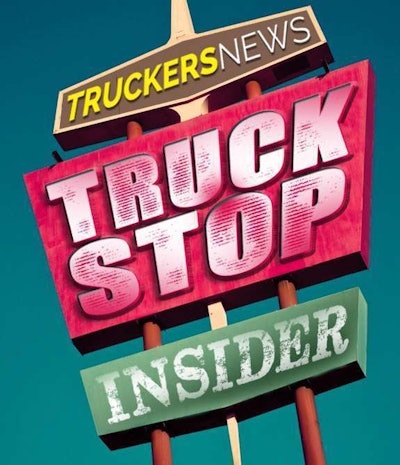 Drivers can earn one bonus loyalty point per gallon when using the Axle Fuel Card at Pilot and Flying J locations, and two bonus loyalty points per gallon when using the card at One9 Fuel Network locations.
Fleets using the card will also receive $30 off any tire or service, 10% off hourly rates at service centers and no callout fees for roadside service.
"Through the new Axle Fuel Card, we're able to extend much-needed credit to the industry with added rewards for fleets and professional drivers, said Jimmy Haslam, CEO of Pilot Company. "Our goal is to provide fleets of all sizes with a reliable credit solution that fuels their business and enables them to focus on the road ahead."
Truck stop group gives truckers food information
Truckstop and travel center association NATSO has partnered with the International Franchise Association to provide information on available food options at truck stops during the COVID-19 coronavirus pandemic.
While many restaurants have halted dine-in services, many chains at travel centers are still offering food, including some aimed at truckers. Chester's offers a 10 Tenders for $10 meal via curbside pickup, while Wendy's has introduced curbside ordering to accommodate customers with oversized vehicles.
"NATSO and its members are committed to ensuring that the heroic truck drivers serving America during this national pandemic have access to as many food options as possible," said Lisa Mullings, president and CEO of NATSO. "We are proud to feed the nation's truck drivers, and through this partnership, truck drivers can more readily find food and meals in specific geographic areas."
NATSO represents more than 1,350 travel plazas and truckstops that are owned by more than 200 entities.
TA makes corporate changes, eliminates 130 positions
TravelCenters of America Inc. recently announced that it is performing a company-wide reorganization it says will improve its operational efficiency and profitability.
According to the company, the reorganization includes what it calls "significant leadership changes" with the addition of several new senior vice presidents for a newly created hospitality department.
TA has also appointed a new senior vice president of corporate development.
In addition, as part of its reorganization plan, TA is reducing about 130 positions. These changes are expected to generate annual savings of about $13.1 million.
New truck stop planned for I-55 in Illinois
Plans are in the works to build a new truck stop near Interstate 55 Exit 140 near Atlanta, Illinois.
The $5.8 million project is being developed by Sean Patel, of St. Louis who also owns a truck stop in Hillsboro, Missouri, and Bishap Patel, a developer who runs properties in Western Illinois. It will have a Shell station along with a Dairy Queen and a car wash.
It's expected to be open before the end of the year.
Atlanta is about 20 miles southwest of Bloomington, Illinois.