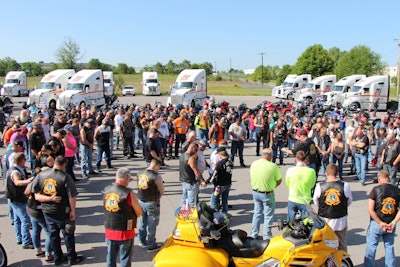 A Tennessee trucking company recently used motorcycles instead of big rigs to raise money for a good cause for sick children.
The fifth annual Big G Motorcycle Ride benefiting St. Jude Children's Research Hospital May 30 raised $25,000, which was $15,000 more than their goal this year.
Some 148 motorcycle riders drove 75 miles to a fundraiser auction at Jim Oliver's Smokehouse Restaurant in Monteagle, Tennessee
"It was like a big family reunion," said Big G's Vice President Deanna Phelps. "Everyone was relaxed and happy to support the kids at St Jude's; absolutely wonderful day!"
All proceeds go to St. Jude Children's Research Hospital to help fight childhood cancer and other life-threatening diseases.
Big G driver and fundraiser organizer Tim Chelette, was pleased by the turnout and donations. "We had a blast. It was awesome to see you all coming in, showing up and showing out. Last year we raised $14,628, this year it was $25,000. Can you believe that?"
Big G is an employee-owned company located in Shelbyville, Tennessee.