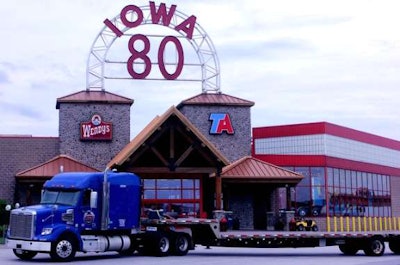 Lubricants producer Howes has named the Iowa 80 Truck Stop as its third inductee in the Howes Hall of Fame, which the company launched in March to celebrate its 100th anniversary.
The iconic truck stop in Walcott, Iowa, opened in 1964 as a single building, up and running before I-80 was completed. At the time, Iowa 80 founder Bill Moon was responsible for finding land and building truck stops for Standard Oil. He located the spot for Iowa 80, and they built and opened it at what is now Exit 284 off I-80.
In 1984, after nearly 20 years of managing the place, Bill and his wife Carolyn convinced Standard Oil (now Amoco) to sell to them the land and buildings of their beloved truck stop. These days, Iowa 80 is overseen by the second generation of the Moon family. The Moon's daughter, Delia Moon Meier, is the truck stop's senior vice president.
Iowa 80 is home to the annual Walcott truckers Jamboree.
Women in Trucking President and CEO Ellen Voie and trucking singer-songwriter Tony Justice were the first two inductees into the Howes Hall of Fame.