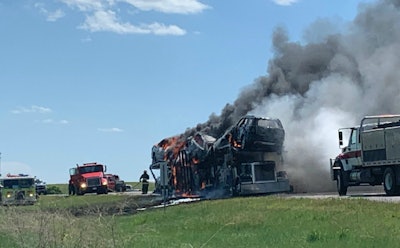 No one was injured when a car carrier and its load of nine vehicles caught fire late last week in southwest South Dakota.
The South Dakota Highway Patrol reports the driver of the tractor-trailer heard an explosion, looked in his rearview mirror and saw the trailer was on fire. The rig and its cargo of vehicles were fully engulfed in flames when local fire departments arrived.
The incident occurred Friday, June 5 on State Route 59 near Buffalo Gap. Troopers say the highway was closed for about an hour.