A truck driver from North Carolina died in a collision involving three tractor-trailers on Interstate 85 in Georgia Monday night, July 20.
The Georgia State Patrol reports Christopher Alan Cline, 57, of Lenior, North Carolina died in the collision, which occurred near Carnesville, Georgia about 85 miles northeast of Atlanta. Troopers say Cline was following another tractor-trailer too closely at the time of the crash.
I-85 was closed for about five hours. GSP continues its investigation.
Trucker charged with kidnapping in Ohio chase
The truck driver involved in an extended chase and standoff with police in Ohio Saturday, July 18 is being held on $275,000 bond and faces kidnapping charges.
Patrick Berthelot, 39, of Alabama, was taken into custody on Interstate 275 in Cincinnati Saturday after leading police on an extended chase and also trying to hit officers with his truck. More charges are expected.
He was holding his wife at knifepoint for much of the chase. She eventually exited the truck and was hospitalized with injuries.
The incident ended when an officer used a .50 caliber rifle to shoot the engine of the truck Berthold was driving. Officers used a Taser to subdue him and take him into custody. He appeared in court Monday, July 20.
Police seek tractor-trailer in Oklahoma hit-and-run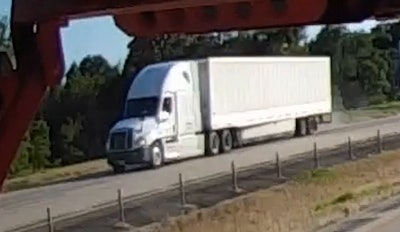 The Oklahoma Highway Patrol is seeking a tractor-trailer they say was involved in a fatal hit-and-run accident Saturday, July 18 on eastbound Interstate 40 near Moffett.
In a post on its Facebook page, the OHP says a white truck pulling a white box trailer struck a truck and pedestrian stopped on the shoulder of the interstate. Robert Rabe was driving a 1977 Chevrolet truck eastbound and had pulled to the shoulder and changed a flat tire before being struck, according to OHP.
The truck may have damage to the right front of the tractor and/or right side of the trailer. Police say it traveled east into Arkansas on I-40.
Anyone with information can call the OHP at 918-627-0440.