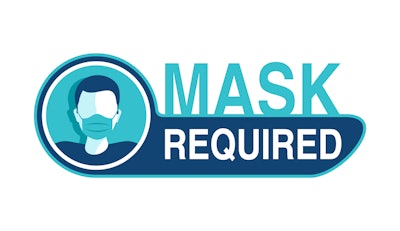 Another major truck stop chain says it will require is customers to wear face masks when entering its stores. In addition, two national organizations — one for the trucking industry and the other representing truck stops — are urging their members to use and require masks in response to the growing outbreak of the COVID-19 coronavirus.
On Thursday, July 23, Pilot announced it will require masks starting Tuesday, July 28. A statement from the Knoxville, Tennessee-based company said: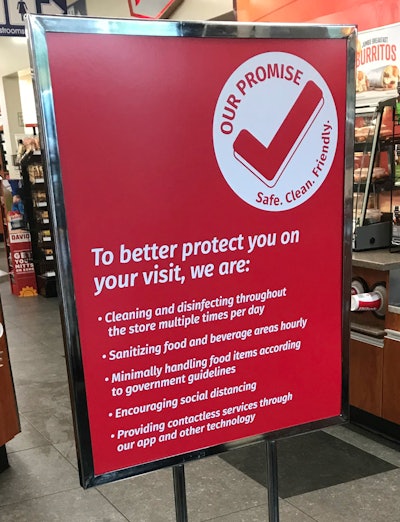 "The wellness of our team members and guests is important to Pilot Company. We are deeply committed to our number one quality standard of safety and continue to evaluate our safety protocols according to health department, state, and local ordinances.
"For the safety of everyone at our stores, we thoroughly sanitize surfaces with frequent cleaning procedures, provide hand sanitizer stations for public use, have protective shields installed at all points of sale, require our team members to wear face coverings and display in-store signage to remind guests the importance of following social distancing, healthy hygiene and area mandates. Additionally, drivers lounges remain closed and, due to local orders, some indoor dining room seating areas are temporarily closed with food available through carry-out and grab-and-go service.
"To better protect team members, guests and professional drivers amid the rise of COVID-19 cases across the country, Pilot Company will begin requiring guests to wear a face covering at all of our owned and operated locations as of July 28, 2020. This policy is in accordance with several states and counties already requiring face coverings and will not apply to children or to persons with a medical condition that prevent wearing a face covering. For professional drivers that do not have a face covering, we offer them for purchase and are working to make them available upon request as supplies last.
"It is vital that our travel centers remain open and operational to provide the fuel, food and amenities drivers need to do their jobs. We join the travel center industry in this effort to ask everyone to do their part in protecting against the spread of COVID-19 in order to help ensure that our team members, professional drivers and other essential workers stay safe and are able to keep providing the goods and services that North America depends on."
Also on Thursday, NATSO, the organization representing truckstops, announced its board of directors "adopted a resolution encouraging all truck stops and travel centers to require masks or other facial coverings for employees, customers, and vendors."
In an email to NATSO members and others, association President and CEO Lisa Mullings said:
"By mandating masks at your location, you will once again be taking the lead in protecting the health of your customers and team. In addition, mask policies will prevent truck drivers from navigating differing policy requirements as they cross state and even county lines, which has caused them unnecessary confusion.
"NATSO reached out to national trucking organizations including the American Trucking Associations (ATA), Truckload Carriers Association (TCA), and Owner-Operator Independent Drivers Association (OOIDA) asking that they urge professional drivers to help us protect them by wearing masks in truckstops."
On Thursday, ATA urged its members to follow the requests of truck stops. In a letter to members, ATA President and Cheif Executive Officer Chris Spear said it was "time for our industry to lead and show our country how to get the job done." Toward that end, Spear wrote, "ATA strongly encourages all fleets to adhere to mask requirements in private truck stops and public rest areas."
He closed by saying, "So let's mask up and keep on trucking."
The movement toward increased mask usage began earlier this week when Love's Travel Stops & Country Stores announced they will require all employees and customers to wear masks as of July 29. The announcement was met with derision from many members of the trucking industry.
Truck stops are not the only retailers requiring all customers and staffs to wear masks. Among major chains making masks mandatory are Walmart, McDonald's, Kohl's, CVS, Starbucks, Walgreens, Target, and Publix.
Love's announcement came shortly after President Donald Trump Tweeted a photo of himself wearing a masked and suggested wearing one was patriotic.
Cases of COVID-19 are increasing in states along the Gulf Coast, the Southwest and California. Total known cases of the coronavirus have passed 4 million and there have been at least 144,000 deaths attributed to it.