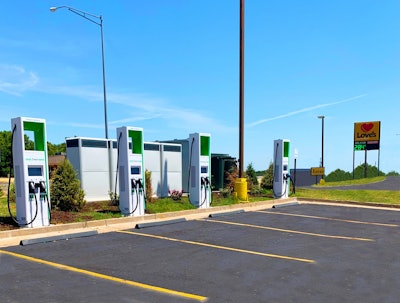 Electrify America today announced it will work with Love's Travel Stops to bring public ultra-fast electric vehicle charging stations to seven locations in six U.S. states.
The seven charging stations, located in Oklahoma, New Mexico, Utah, Florida, New York and Arizona, will have a combined 28 EV chargers and be available for public use by early 2021 – with five locations already open. The most recent Love's station opening in Salina, Utah, helped complete a cross-country route of Electrify America chargers spanning from Los Angeles to Washington, D.C.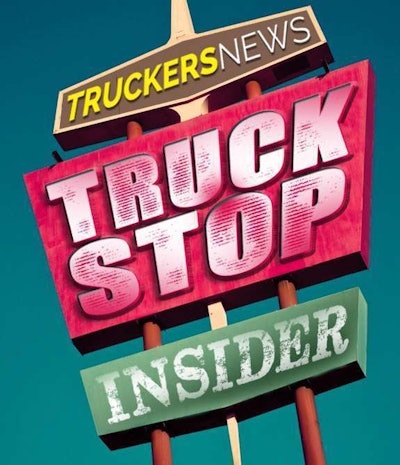 Depending on the location, Love's customers will have access to chargers ranging in power from 150 kilowatt to 350 kW. Electric vehicles capable of accepting a 350 kW charge can add up to 20 miles of range per minute, helping alleviate range anxiety that many consumers associate with EV road trips.
Electrify America charging station locations now open at Love's Travel Stops:
Coming soon to Love's Travel Stops:
New Truck Stop to Open in New York State Later This Month
Quicklee's Convenience Stores says its new Belmont Truck Stop and Travel Center near Interstate 86 in southwestern New York will include a Dunkin' franchise. The travel center is expected to open later this month, and the Dunkin' opens shortly after.
"Since we announced our plan to open a new location in Belmont, we've had an outpouring of support from the local community," says Ken Perelli, vice president of Quicklee's Convenience Stores. "People are excited about the development, they've reached out with thoughts, and we are pleased to let them know that Dunkin' will be serving their community soon."
In addition to being an Ambest Express location, the new travel center and truck stop will provide a dedicated diesel truck canopy, showers, and convenience store staples such as snacks, drinks, and local products.
Trucking Company Owner Plans to Build Truck Stop
The owner of a warehouse and delivery company plans to build a truck stop and travel center near Interstate 135 near Wichita, Kansas.
According to The Wichita Eagle, the Air Capitol Travel Center will be built on 25 acres Lou Robelli, the owner of Air Capitol Delivery & Warehouse, plans to develop at the northwest corner of 85th Street and I-135 in Park City.
There will be parking for 75 to 100 trucks, a truck wash, a place to get an oil change, and some retail.
The truck stop expected to be open next spring.
Robelli's company has 135 trucks on the road in 48 states, hauling dedicated freight.