Cargo thefts increased during the second quarter of the year at the height of the COVID-19 slowdown, according to cargo theft recording firm SensiGuard.
The firm reports a 56% year-over-year increase in theft activity, coupled with an 80% increase in value. The firm uses reports from transportation security councils, insurance companies and law enforcement organizations to record theft numbers.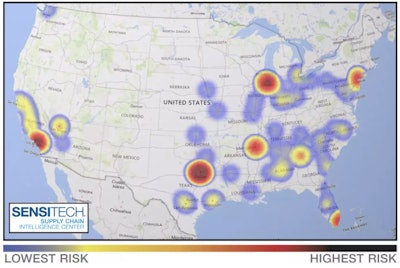 "One significant note is that April, which was at the height of the supply chain disruption caused by COVID-19, experienced more than double the volume of April 2019 (+109%). While both May (+31%) and June (+30%) also beat their 2019 totals, it was by a decreasing amount in each case," SensiGuard said in its 2020 second quarter cargo theft analysis.
In total, SensiGuard recorded 227 cargo thefts in the second quarter, with 96 of them occurring in April, 67 in May and 64 in June. The average theft value per incident during the quarter was $219,364.
Miscellaneous products were the most stolen product type during the quarter, representing 23% of all cargo thefts. These products mostly consisted of mixed loads, which SensiGuard says typically hold a variety of cargo for mixed retail stores. Food and drinks were the next most stolen items, accounting for 20% of all thefts.
Texas took the top spot in 2020's second quarter, accounting for 24% of the nation's thefts. Texas was followed by California, Illinois, Florida and Tennessee. Within these states, the most prevalent locations for thefts were unsecured parking lots, identified in 86% of incidents in which a location was noted.