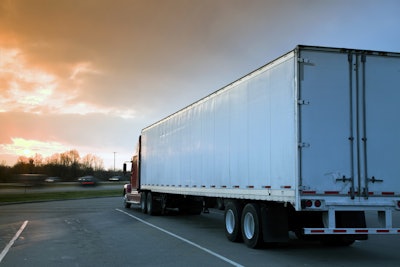 Hot on the heels of seeking comments on a proposed pilot program to provide more flexibility in drivers' hours of service, the Federal Motor Carrier Safety Administration Friday, Sept. 4, announced it's proposing and seeking public comment on another new pilot program to allow drivers aged 18, 19, and 20 to operate commercial motor vehicles in interstate commerce.
FMCSA is conducting a pilot program that allows 18-20-year-olds with military driving experience to operate in interstate commerce. The agency floated the idea last year and collected industry feedback on potentially proposing a second pilot program that allows non-military experienced drivers to drive trucks across state lines.
"This action will allow the agency to carefully examine the safety, feasibility, and possible economic benefits of allowing 18 to 20-year-old drivers to operate in interstate commerce," said FMCSA Deputy Administrator Wiley Deck. "Safety is always FMCSA's top priority, so we encourage drivers, motor carriers, and interested citizens to review this proposed new pilot program and share their thoughts and opinions."
The upcoming notice uses input from more than 1,000 comments from last year's notice and officially proposes the pilot and asks for public feedback on the specifics of the program. Eligible drivers for the proposed program must fall into one of the following categories: 18-to-20-year-old CDL holders who take part in a 120-hour probationary period and a subsequent 280-hour probationary period under an apprenticeship program established by an employer; and 19- and 20-year-old drivers who have driven trucks in intrastate commerce for at least a year and 25,000 miles.
The 280-hour probationary period would include 280 hours of on-duty time, with at least 160 hours of driving time. To complete this period, drivers must be competent doing the following: backing and maneuvering in close quarters; pre-trip inspections; fueling procedures; weighing loads, weight distribution and sliding tandems; coupling and uncoupling procedures; and trip planning, truck routes, map reading, navigation and permits.
Drivers participating in the program would not be allowed to operate vehicles hauling passengers, hazardous materials or special configurations, such as doubles, triples or cargo tanks.
One of the trucking industry's leading trade groups was quick to praise the proposal.
"This is a significant step toward improving safety on our nation's roads, setting a standard for these drivers that is well beyond what 49 states currently require," said Chris Spear, president and CEO of the American Trucking Associations. "This is an amazing block of talent with unlimited potential. If our freedom can be defended from tyranny around the world by our men in women in uniform, many well below the age of 21, then it's quite clear that we can train that same group how to safely and responsibly cross state lines in a commercial vehicle."
FMCSA is seeking feedback on its proposed pilot, which can be given for 60 days once the notice is published in the Federal Register. Specifically, the agency is looking for answers to the following questions:
Should FMCSA consider any additional safeguards to ensure the pilot program is as safe as normal regulations?
Would carriers be able to obtain enough drivers to participate?
Would the vehicle technology requirements proposed limit participation by smaller companies?
Should FMCSA limit the distance that participating drivers should be allowed to operate?
Are the data collection efforts proposed too burdensome for carriers?
Should participation be limited to drivers who have not been involved in a preventable crash?
To view this Federal Register Notice and learn more about the proposed pilot program, visit: https://www.fmcsa.dot.gov/registration/commercial-drivers-license/proposed-pilot-program-allow-persons-ages-18-19-and-20.