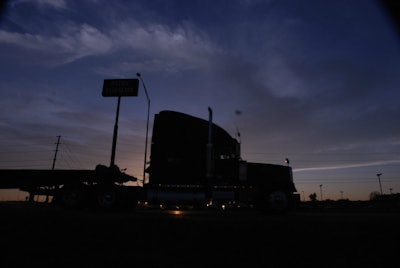 Almost exactly 30 days before changes in hours of service regulations are set to go into effect, the Federal Motor Carrier Safety Administration announced it's seeking public comment on a pilot program to provide additional relief.
On Friday, Aug. 28, the FMCSA announced the Split Duty Period Pilot Program would allow participating drivers to pause their 14-hour on-duty driving time with one off-duty period of at least 30 minutes, but not more than three hours.
Participation in the proposed pilot program, proposed to operate for three years or less, would be limited to between 200 and 400 CDL drivers who meet the criteria specified by the FMCSA. The goal is to gather statistically reliable evidence to analyze the safety and feasibility of such a modification to the hours of service.
In announcing the proposal, the agency said, "FMCSA believes a pilot program would provide an innovative, collaborative approach for evaluating concerns about the use of a pause to the 14-hour window. Through the pilot program, the agency could gather data and information concerning real-world actions and decisions among drivers, employers, and shippers and receivers to reach a common understanding of how to give drivers more opportunities for rest and increased efficiency."