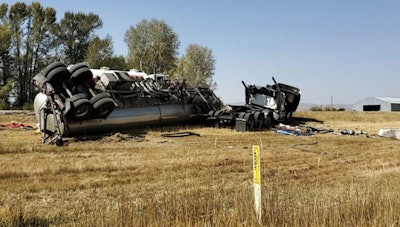 A trucker died early this morning in a crash in North Carolina, and another was injured late last week when his tanker loaded with gasoline rolled over in Utah.
Southbound Interstate 77 in Charlotte, North Carolina was closed for several hours early this morning after a tractor-trailer collided with two vehicles at a construction site. The accident occurred at about 2 a.m. on I-77 near W.T. Boulevard and just before Interstate 485.
The company overseeing the road work said in a statement that a subcontractor was performing a rolling roadblock with truck-mounted attenuators and a police officer with flashing lights when "a tractor-trailer passed the police officer and struck the subcontractor's TMA which then hit the vehicle it was protecting in front of it."
The name of the truck driver has not been released.
Overnight our Station 1 responded to this MVA on I-77 SB just south of I-485. A tractor trailer struck several construction vehicles. Fortunately no serious injuries, but the accident required extensive clean-up. We operated on scene just over an hour and a half. #CLTtraffic #I77 pic.twitter.com/4Uc18oOugd

— Huntersville Fire (@Huntersville_FD) September 28, 2020
Trucker injured in tanker rollover, spill
Utah Highway Patrol troopers report a gasoline tanker traveling southbound on SR-16 near mile marker 19 swerved off the roadway and rolled, spilling some 6,000 gallons of gasoline it was carrying.
The mishap occurred Thursday, Sept. 24, in Rich County, which is located in northeast Utah.
The truck's driver, who has yet to be identified, is said to have sustained critical injuries. He was treated by paramedics on the scene and transported by helicopter to a hospital. The cause of the crash is under investigation.