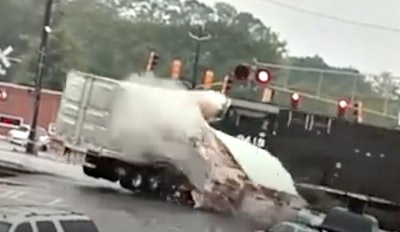 A trucker escaped injury last week when a freight train crashed into the trailer of his rig that was stuck on railroad tracks in Villa Rica, Georgia about 30 miles west of Atlanta.
The crash occurred at about 4 p.m.Thursday, Sept. 24 when the trucker tried to cross the tracks just as the gates were closing. According to local police, the driver got the back wheels stuck in a ditch near the tracks. When they backed up to try to free the wheels, the trailer ended up on the tracks and was struck by the Norfolk Southern train.
Oddly, the entire incident was captured on a security camera affixed to the nearby police station.
The trucker was ticketed for disregarding railroad crossing signs.