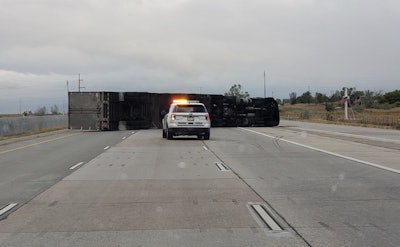 Winds equivalent to a category three hurricane toppled at least 45 tractor-trailers in Utah Tuesday, Sept. 8.
The Utah Highway Patrol reports that four truckers were taken to local hospitals for injuries resulting from their trucks overturning on interstates and other highways.
A UHP dashcam captured one tractor-trailer being blown over next to one that had already been felled by high winds.
Restrictions were in place for high-profile vehicles, and high winds were expected again today.
While it may seem calmer than it was, winds are expected to gust up to 75 mph again tonight after 9:00 pm in Davis & Weber Counties. Please do not ignore the restrictions on high-profile vehicles (...still in place) in this area. pic.twitter.com/uguac8trDx

— Utah Highway Patrol (@UTHighwayPatrol) September 9, 2020