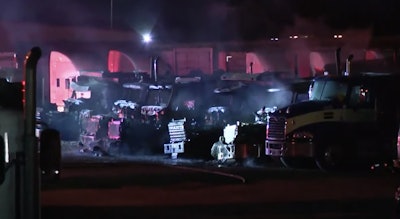 An Indianapolis truck dealership is offering a $30,000 reward for information in connection with a massive fire that damaged or destroyed 19 trucks in the early morning hours of Thursday, Sept. 17.
Twelve trucks were destroyed and seven damaged in the blaze at M&K Truck Centers on Harding Court off Interstate 465 on the south side of Indianapolis.
Officials say the fire that did more than $1 million damage was intentionally set.
"It is devastating that this intentional arson occurred on our property today," said M&K Truck Centers General Manager Ryan Fultz in a statement to the media. "We sincerely appreciate the rapid response of the Indianapolis Fire Department and that firefighters were able to get the fire under control quickly."
The Indianapolis Star reports this was the fourth fire investigators have ruled as arson in two days.