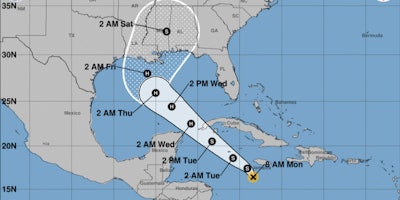 Another tropical storm has formed and could arrive along the Gulf Coast later this week as a hurricane.
Tropical Storm Delta is being forecasted to make landfall as a category 2 hurricane in the wee hours of Friday, Oct. 9, along the Louisiana coast.
As of 7 a.m. today, Delta was about 130 miles south of Negril, Jamaica. The storm is heading northwest at 9 mph but is expected to pick up speed Tuesday and Wednesday. The National Hurricane Center reports the system could move into the southeastern Gulf of Mexico Tuesday night or early Wednesday. Delta's winds could reach Louisiana sometime Thursday, forecasters said.
"All of Louisiana needs to prepare for Tropical Storm Delta," Gov. John Bel Edwards said via Twitter this morning. He warned residents to listen for advisories from local officials.
"Now is the time to put your hurricane plans into action," the National Weather Service office in New Orleans said on Twitter today.