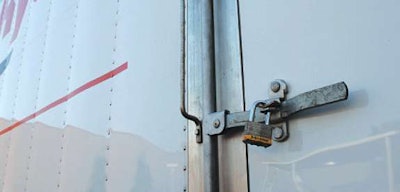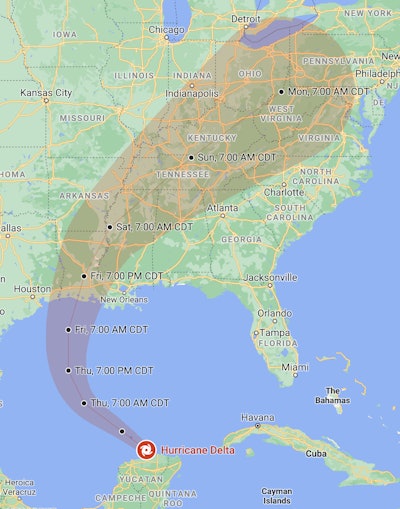 After barreling across Mexico's Yucatan peninsula with 110 mph winds and eight to 10-foot storm surges, Hurrican Delta appears to be headed to the U.S. Gulf Coast, regaining strength as it moves across open water.
The current forecast is for Delta to make landfall as a Category 3 hurricane along the Texas and Louisiana coasts Friday, Oct. 9, morning, bringing high winds and heavy rains to areas still recovering from earlier storms.
Sensitech, which monitors cargo theft, recommends shippers continue to monitor developments throughout the week and weekend and confirm if destination facilities in the area will be impacted and have alternate plans for secure staging locations outside of the storm's path. In a statement today, Sensitech said it "continues to strongly recommend that shippers and manufacturers utilize covert GPS tracking as part of a layered security program to mitigate the risk of theft. In the event cargo is stolen, the ability to provide real-time, accurate location coordinates to law enforcement is an essential component of a successful recovery."
"Delta is expected to grow in size as it approaches the northern Gulf Coast, where there is an increasing likelihood of life-threatening storm surge and dangerous hurricane-force winds beginning Friday, particularly for portions of the Louisiana coast," said the National Hurricane Center Wednesday.
The governors of Alabama and Louisiana have declared states of emergency ahead of the storm's arrival. The Mississippi Emergency Management agency has deployed 160,000 sandbags to low-lying counties and has nine shelters on standby to open if needed. In Texas, Gov. Greg Abbott has placed resources on standby across the state in anticipation of Delta's arrival, according to a statement from the governor's office.