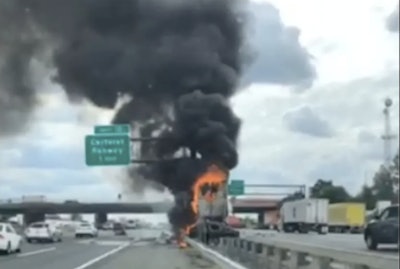 Several passing motorists stopped to rescue a trucker whose rig was on fire on the New Jersey Turnpike in Linden, New Jersey Monday afternoon, Oct. 5.
The driver's truck reportedly burst into flames after striking a signpost in the southbound lanes of the turnpike. Daniel O'Beirne, a corrections officer and volunteer firefighter following the truck witnessed the mishap, stopped, and ran to the blazing truck. O'Beirne helped the trucker down from the truck and used his own shirt and then his pants to try to extinguish the flames burning the trucker's clothes.
Jordan Reed, an emergency medicine physician assistant, joined O'Beirne and began dousing the trucker with water. Another trucker stopped and used his fire extinguisher to put out the flames.
After EMTs arrived, the trucker was airlifted to a nearby hospital. The trucker's condition is unknown at this time.