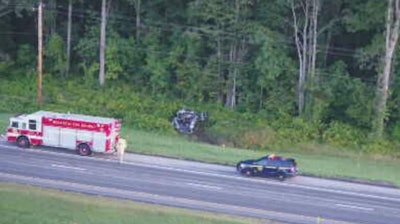 Federal regulators today said a New Jersey truck driver has been declared an "imminent hazard" to public safety and placed out of service as the result of a September hit-and-run accident in which two people died.
The U.S. Federal Motor Carrier Safety Administration said it served Quentin Campbell with a federal order disqualifying him from operating any commercial motor vehicle for which a commercial driver's license is required. He was served the federal order Oct. 15.
The FMCSA said on Sept. 4, Campbell was operating a tractor-trailer on Interstate 90 in Monroe County, New York, traveling westbound when he made an illegal U-turn and was struck by an eastbound passenger vehicle. Both occupants of the passenger vehicle were killed.
Campbell did not stop, and instead completed the illegal U-turn and fled the scene. He was subsequently arrested by New York State Police officers and charged with two counts of manslaughter and one count of leaving the scene of a fatal crash.
FMCSA's imminent hazard out-of-service order states that Campbell's "blatant and egregious violations of the [federal safety regulations] and ongoing and repeated disregard for the safety of the motoring public … substantially increases the likelihood of serious injury or death to you and the motoring public."