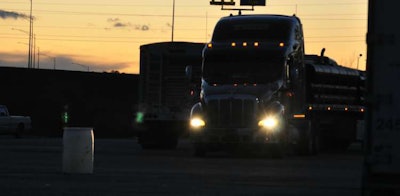 A month ago, the Federal Motor Carrier Safety Administration's first substantive change to hours of service regulations in years became effective.
At the stroke of 12:01 a.m. Sept. 29, the new rules governing how truckers can arrange their driving days changed for the first time in some 15 years. The change began under the Trump Administration's first FMCSA administrator Ray Martinez and advanced under his replacement Jim Mullen. However, it wouldn't become law until Mullen left and Deputy Administrator Wiley Deck began overseeing the department in August.
All along, the goal was to provide drivers with more flexibility while on the road. It's provisions included:
drivers will be allowed to use their 30-minute break in an on-duty, not-driving status and requiring it within their first eight hours of drive time, rather than their first eight hours on-duty
modifies the sleeper-berth exception to allow drivers to split their 10-hour off-duty period into windows of seven hours and three hours, in addition to the existing eight-hour, two-hour option. It also adds the shorter period in any split off-duty will pause the rolling on-duty clock
allows drivers to extend their drive-time limit and their on-duty window by two hours if they encounter adverse weather conditions or traffic congestion
changes the short-haul exception available to some commercial drivers by lengthening their maximum on‑duty period from 12 to 14 hours and extending the distance limit within which the driver may operate from 100 air miles to 150 air miles
The questions now are this:
After 30 days, are drivers availing themselves of the new hours of service rule?
Is the flexibility paying off?
How are they using the 10-hour off-duty perior: 7/3 or 8/2?
Have they benefitted from extended drive time in bad weather or in traffic congestion?
You tell us. Take our poll and use the comment section below to elaborate.