The founder of a major Oklahoma trucking company died on the weekend.
James A. Miller, founder of Miller Truck Lines, died Sunday morning, Nov. 1. He was 86 years old.
In a Facebook post, the family wrote: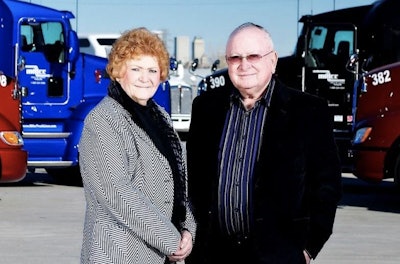 "Since the founding of this company in 1983, our father has been known for his work ethic, leadership, passion, and sheer grit. Dad always sought to operate Miller Truck Lines guided by deep-rooted family values with our mom, Bonnie Miller, by his side. They worked tirelessly to develop this company to be an impactful segment of the transportation industry. She preceded him in death on Dec. 22, 2018.
"While we mourn his loss, his legacy will live on for generations through the profound impact he had on countless individuals in and around the community of Stroud, Oklahoma. Dad always wanted success for everyone around him and sincerely thought of all Miller Truck Lines employees as family.
"May his soul rest in peace."
A graveside memorial service will be held this week at a time to be announced.
In lieu of flowers, the family asks donations be made to the Stroud Chamber of Commerce and the Stroud Booster Club in his honor.
Miller Truck Lines has 413 trucks and 445 drivers. It hauls flatbed, reefer, dry van and tanker, and pneumatics. It's based in Stroud, Oklahoma, and also has offices in Tulsa.