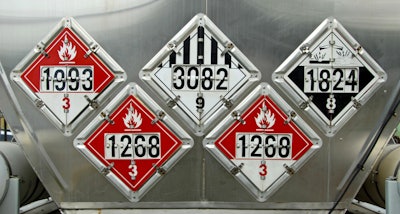 Truck drivers whose hazardous materials endorsements have expired since the onset of the COVID-19 pandemic may now have through the end of the year, at least, to renew the endorsement.
The Transportation Security Administration published a notice Wednesday, Oct. 28, extending the renewal exemption through Dec. 31. It was previously set to expire Oct. 31 when it was extended at the end of July.
"Federal partners, state licensing agencies and related associations report ongoing difficulties in timely renewal of expiring HMEs and asked TSA to consider extending the exemption until the end of calendar year 2020," TSA said of its decision to extend the waiver.
The waiver gives states the ability to extend the expiration date of hazmat endorsements that expire on or after March 1, 2020. If a state grants the extension, drivers with an expired hazmat endorsement must initiate the process of renewing their security threat assessment for the endorsement no later than 60 days before the end of the state-granted extension, TSA added.