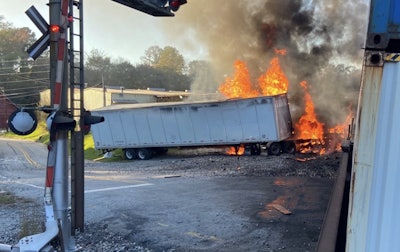 The driver of a tractor-trailer that was struck by a train Wednesday, Nov. 4, escaped without injury.
The collision occurred Wednesday afternoon at about 4:40 p.m. in Clayton County south of Atlanta.
The Atlanta Journal and Constitution reports the tractor-trailer was stalled on the railroad tracks when it was hit by the 47-car Norfolk Southern freight train, which was traveling from Garden City to Austell. No crew members of the train were injured.
After being struck by the train, the trailer of the rig caught fire. It is said to have been carrying mattresses at the time of the collision.
***Traffic Alert*** Please avoid the area of 3780 Rex Circle, Rex, GA 30273 due to a train hitting a tractor trailer that was stuck on the train tracks. There are no injuries at this time. Please take an alternate route. Expect delays for hours. pic.twitter.com/IudNo2WGbW

— Clayton County PD (@ClaytonCountyPD) November 4, 2020