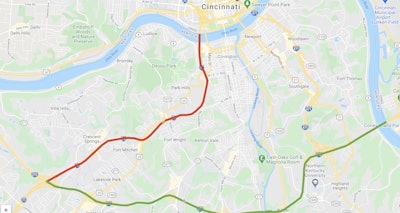 It appears one of the trucks involved in the collision and fire earlier this month that forced the closure of a key bridge and interstate highway connection between Ohio and Kentucky should not have been on the bridge.
A Louisville TV station reports Kentucky several years ago designated Interstate 75 north of I-275 as a route where shipments of all hazardous materials are forbidden. That portion of I-75 includes the lower section of the Brent Spence Bridge where two tractor-trailers — including one carrying potassium hydroxide — collided and caught fire in the early morning hours of Nov. 11.
However, WDRB also reports that the truck hauling the potassium hydroxide did not have enough of the chemical on board to require a hazmat placard.
It also seems as though the ban of hazmat cargo was not widely known in government and trucking circles, according to WDRB. And, there are no signs identifying that portion of the interstate as not allowing hazmat cargo.
Repairs to the bridge that carries I-75/71 across the Ohio River between Cincinnati and Covington, Kentucky are expected to be completed by Dec. 23. The bridge is essential to the trucking industry as it is estimated to carry some $400 billion in freight each year.