Under an order by the Kentucky secretary of transportation drivers of commercial vehicles traveling northbound on Interstates 75/71 are encouraged to follow the detours that reroute them around the closed Brent Spence Steet Bridge and keeps them off surface streets of Covington, Kentucky.
Kentucky Transportation Secretary Jim Gray signed the order Wednesday, Nov. 18, and said that while it contains penalties for not following the detours, the state is more interested in encouraging truckers to do the right thing.
"The intention is not to penalize drivers but to prohibit large trucks from clogging local streets, creating traffic hazards and congestion," Gray said. "Diverting drivers onto our established detours will keep traffic flowing as smoothly as possible during this limited bridge closure."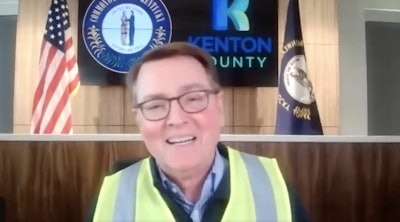 Northbound commercial vehicles heading to Ohio are directed to detour onto I-275 toward alternative crossings. However, some truckers continue north on I-71/75 into downtown Covington, creating gridlock on local streets.
Gray's order remains in effect until the bridge is reopened. It does not apply to trucks making local deliveries. It also empowers law enforcement officers to prohibit commercial vehicles from bypassing the detour and issue tickets to violators.
"We're not looking for penalties," Gray said. "We're looking for cooperation."
Gray also gave an update on the progress of efforts to reopen the bridge, which was damaged in a truck crash and fire last Wednesday, Nov. 11. The bridge normally carries about 160,000 vehicles a day across the Ohio River. Neither trucker was injured in the crash and resulting fire.
The bridge is expected to be open by Dec. 23.