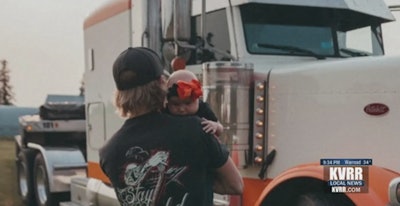 A local driver and former over-the-road flatbedder from Shevlin in northern Minnesota will represent all truckers who have driven through the COVID-19 coronavirus pandemic when he is featured on the labels of a popular soda.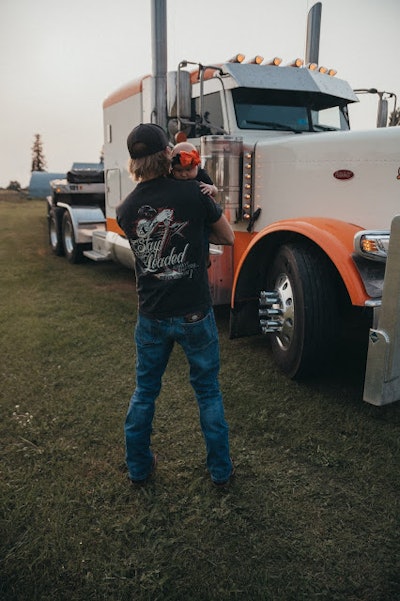 A photo of Jake Shellum holding 3-month-old Chevelle, one of his eight children, and standing in front of his orange and white 2014 extended hood Peterbilt 389 will be featured on 50,000 bottles of Jones Soda as part of the company's salute to the unsung heroes of the pandemic.
During the height of the pandemic, Shellum hauled construction products over-the-road, often through or to some of the COVID hotspots. He, like many other truckers deemed essential workers, was out for several weeks at a time, living in his truck, and struggled to find parking, decent food, and personal protective equipment.
Shellum recently was able to put driving over-the-road on hold to spend more time at home. Today he drives for Pine Products of Bemidji, Minnesota. His wife Leah said he gets up at 3 a.m. and delivers mulch and bedding all over the state, but gets to come home in the afternoons. "Hoping someday to have our own truck," she adds.
Seattle-based Jones Soda is well-known for its innovative labeling. The company posted to its Facebook page: "We're looking for real-life heroes to feature on a limited-edition Jones series. Help us commemorate those who have gone above and beyond this year by submitting their photos and stories …" So, Shellum's wife Leah, who is a photographer, shared the photo she had taken with Jones, and they liked it.
"We just fell in love with it," said Maisie Antoniello, vice president of marketing at Jones Soda, of the photo in a recent TV interview.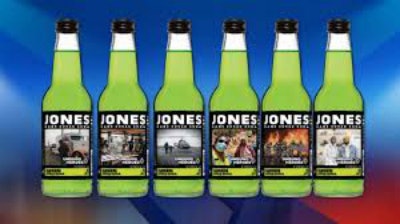 Shellum will be one of six unsung heroes to be featured on Jones bottles next year.
Leah said she hopes the photo she took of her husband will help all truckers. "They'll get to be seen in that way or people get to see them and maybe think a little bit of what they're going through instead of being just a truck on their way," Leah told KVRR-TV.
During the summer, the premium craft soda maker featured a "Messages of Hope" campaign on its labels.
"In many ways, the current pandemic has brought out the best in people, from lawn signs supporting essential workers to artists whose expressions of encouragement have appeared in their communities as well as on social media. Our team quickly realized that our bottles provide a perfect canvas to spread those positive messages even further, and that's how our 'Messages of Hope' collection was born," said Antoniello. "Every image in the series is a symbol of hope, strength, and unity as we face this global health crisis together."
The "Messages of Hope" collection was Jones Soda's second initiative inspired by COVID-19. The company also held a design contest that raised $10,000 to assist artists whose livelihood has been impacted by the pandemic through a donation to Artist Trust, a nonprofit organization that supports individual artists in Washington State through grants and professional development.