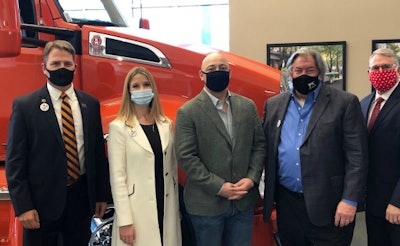 A 20-year Army veteran is this year's winner of the Transition Trucking: Driving for Excellence Award.
Ivan Hernandez, who drives for Werner Enterprises, won the award Friday, Dec. 4, and a fully-loaded Kenworth T680 truck. The presentation was made at the Kenworth plant in Chillicothe, Ohio.
Hernandez's military career included four combat deployments to Iraq and Afghanistan. He received two Bronze Stars and a Purple Heart after being wounded in action. Originally from El Paso, Texas, he enlisted in the Army in 1998 and retired Dec. 21, 2018.
In January 2020, Hernandez graduated from the Roadmaster Drivers School and has been employed by Werner Enterprises since February and has a safety record of more than 35,000 accident-free miles.
Ray Miller, a U.S. Army veteran and Stevens Transport driver, was this year's runner-up. He was presented with a $10,000 check during the ceremony, while the other two finalists were presented with a $5,000 check. Gail Losee, U.S. Army veteran and Stevens Transport driver, and Shaun Mason, a U.S. Marine Corps and U.S. Army veteran and Prime Inc. driver, tied for third place.
"Each of the finalists recognized today embodies the skills and abilities instilled by the military and have applied these qualities to be successful in their new career field: the trucking industry," said Lisa Berreth, Kenworth marketing director. "You are all role models. You are the everyday heroes that keep our country moving forward."