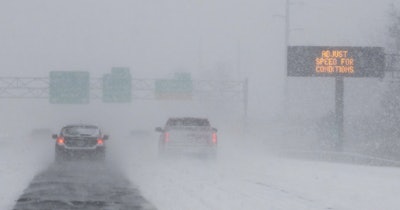 As a major winter storm moved up the East Coast, New York became the latest state to restrict commercial vehicle travel.
Beginning at 5 p.m. on Wednesday, Dec. 16, all empty tractor-trailers and tandem vehicles will be banned on Interstate 84 from the Connecticut state line to the Pennsylvania state line, on I-684 from I-84 to I-287, and on Route 17 from I-84 to I-81.
Also at 5 p.m., all empty tractor-trailers and tandem vehicles will be banned from the Thruway (I-87) south of exit 24 (Albany) to New York City (including the Berkshire Spur, Garden State Parkway extension, New England Thruway, and the Cross Westchester Expressway).
Empty and tandem tractor-trailers were banned on all MTA bridges and tunnels as of 4 p.m.
Gov. Andrew Cuomo warned a state of emergency could be declared for much of the Lower Hudson Valley ahead of the winter storm forecast to deliver from 12 to 18 inches to the region.
New York's truck travel ban followed similar ones enacted in New Jersey and Pennsylvania.
The storm is expected to intensify by 7 p.m., with snowfall rates of 1 to 3 inches per hour possible overnight. Much of the state will see temperatures ranging from the high 20s to low 30s. Wind chill values as low as -2 are possible in the North Country and Capital Region.
Forecasters are calling for 12 to18 inches from Binghamton to Albany and points south, with the Downstate region expected to see the heaviest snowfall. Western New York is expected to see 3 to 4 inches, Central New York and the North Country 4 to 6, and the Mohawk Valley 6 to 8.