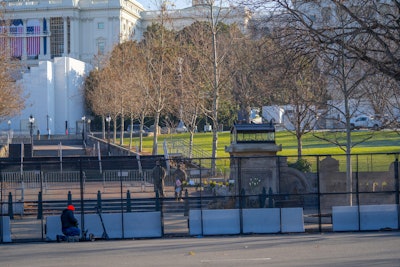 For your trip planning purposes if you're headed to or through Washington, D.C. or thereabouts for the next week or so: expect possible delays, street closures, detours and don't be surprised by the greatly increased presence of security, including some 15,000 National Guard troops.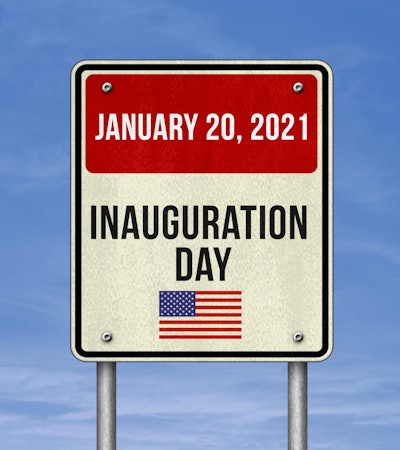 Authorities have already started closing some streets and more will be closed as next week's presidential inauguration ceremony nears. The event will be held Wednesday, Jan. 20 on the West Lawn of the U.S. Capitol. Aside from the swearing-in, many of the traditional events associated with the inaugural have been canceled or moved online because of the COVID-19 coronavirus pandemic and the recent violence at the Capitol.
Starting 8 a.m. today, numerous streets will be closed and cars left parked within certain perimeters will be stuck there until after President-elect Joe Biden and Vice President-elect Kamala Harris' inauguration, authorities say. Crews began installing barriers Wednesday, potentially impacting residents, anyone who parks a vehicle downtown, businesses expecting deliveries, and those making deliveries.
Laura MacNeil, Freight & Urban Delivery Planner for the Washington, D.C. Department of Transportation, shared details about inauguration-related road closures and restrictions in effect in Downtown DC.
A perimeter around the White House includes:
K Street NW
14th Street NW
Constitution Avenue NW
19th Street NW
Starting 8 a.m. today, Thursday, Jan. 14:
Authorities will close down streets and restrict parking and movement in this zone.
All parking garages and loading docks in this White House zone will be restricted.
Any vehicle remaining in any parking garage or loading dock within that zone after 8 a.m. on Thursday will be stuck there until inauguration concludes, authorities say.
These restrictions apply to residential and commercial buildings.
Business deliveries must receive special screening at an off-site facility.
The Metropolitan Police Department, U.S. Capitol Police, and U. S. Park Police advise the following streets are closed until after the inauguration Wednesday:
Independence Avenue between Washington Avenue, SW, and Second Street SE
Constitution Avenue between First Street NW and Second Street NE
East Capitol Street between First and Second streets
18th Street at Constitution Avenue NW
17th Street at Independence Avenue SW
11th Street at Independence Avenue SW
12th Street at Independence Avenue SW
7th Street at Madison Drive NW
7th Street at Jefferson Drive SW
Road closures could change, and anyone in downtown D.C. should be prepared for police to redirect traffic at any time.
Based on an update Wednesday, authorities are asking:
Please avoid the Central Business District in downtown Washington, D.C. Only those with essential work should travel downtown.
Individuals entering the perimeter may be subject to screening and asked about their need to enter the inauguration perimeter. Be prepared to provide proof of your reason.
Please text INAUG2021 to 888-777 to get updates on public safety, road closures, and transit updates around the inauguration, and/or
Sign up for MPD Traffic alerts via: https://twitter.com/DCPoliceTraffic
For more information, visit https://inauguration.dc.gov/
The city will also be under a 6 p.m. to 6 a.m. curfew. The city and federal governments have also discouraged people from visiting Washignton, D.C. next week.
Federal, state, and local law enforcement agencies are also planning stepped up security at state capitals around the country starting this weekend because of a threat of violence.
Get updates on the 59th Presidential Inauguration from DC Government. Text INAUG2021 to 888-777 for updates on public safety, street closures, weather alerts, transit updates, and more. #INAUG2021 @DC_HSEMA pic.twitter.com/xxa1tgW69S

— DC Police Department (@DCPoliceDept) January 13, 2021