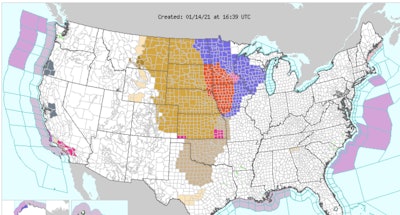 A major winter storm is moving through the upper Midwest today causing travel difficulties and is expected to do the same in the Northeast as the week comes to a close.
High wind warnings have been issued for the Northern/Central Plains as a low pressure system is expected to remain stationary over the region through Friday before continuing on into the Great Lakes and Northeast on Saturday. Between 4 and 8 inches of snow are likely to fall over much of Iowa, Minnesota and parts of Wisconsin through Friday, according to the National Weather Service. Isolated amounts of over 8 inches are possible, and some light freezing rain may also occur along the Upper Mississippi Valley.
This system will move into the Northeast Saturday and produce snowfall over much of the region and rain for the coast.