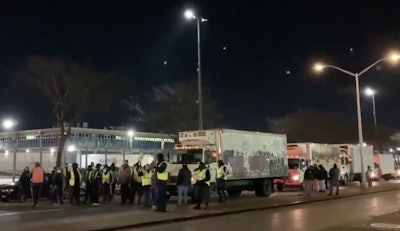 The 1,400 members of Teamsters Local 202 who went on strike at the Hunts Point Produce Market in the Bronx Jan. 17 are back on the job.
Union members agreed to a contract that gives them $1.85 per hour over three years, including 70 cents per hour immediately. Management of the massive market also will make additional contributions of 40 cents per hour to employee healthcare benefits.
This was the first strike at the cooperative market, which supplies produce to most stores and institutions in greater New York City.
Workers originally sought a yearly increase of $1 per hour in pay and 60 cents toward health insurance. Management initially offered a pay raise of 32 cents per hour, plus 60 cents towards health insurance coverage.