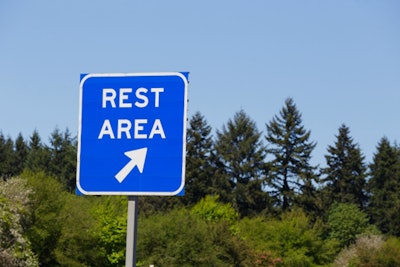 A coalition of businesses is urging federal lawmakers to oppose efforts to commercialize rest areas on the nation's interstate highway system if and when Congress considers infrastructure legislation.
In a recent letter to congressional leaders, the National Association of Truck Stop Owners and 14 other business groups asked lawmakers to reject proposals to allow exceptions to the ban that prohibits states from selling food, fuel or offering other commercial services, including electric vehicle charging, at rest areas. The letter said businesses and municipalities have been hard hit by the year-long COVID-19 coronavirus pandemic and should not have to face competition from states. It also said the ban on commercial services at rest areas is meant to encourage private businesses in communities near interstate exits/entrances.
"Offering food or fuel, including electric charging services at rest areas, would allow states to enter into a monopoly in which they unfairly compete with the private businesses already operating near the interstate exit interchanges to meet the needs of the motoring public," said NATSO President and CEO Lisa Mullings. "If state governments preempt consumer demand, they will effectively destroy the incentive for private sector investment."
Congress is expected to take up infrastructure legislation sometime this year. President Joseph Biden has made infrastructure investment a key part of his economic recovery program, saying it will spur the creation of much-needed, well-paying jobs. The sticking point remains how to pay for any such program.
The letter to Congress was signed by NATSO, Asian American Hotel Owners Association, Energy Marketers of America, Franchise Business Services, International Franchise Association, National Association of Convenience Stores, National Automatic Merchandising Association, National Federation of the Blind, National Franchisee Association, National League of Cities, National Restaurant Association, National Retail Federation, National Tank Truck Carriers, Natural Gas Vehicles for America, and the Society of Independent Gasoline Marketers of America.