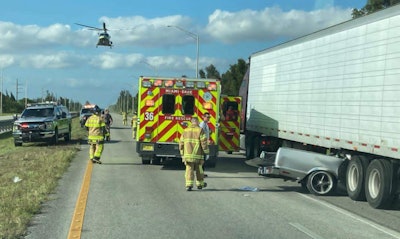 Miami-Dade Fire Rescue
A pick-up truck became lodged under the trailer of a tractor-trailer Sunday afternoon, March 14, in Miami-Dade County, Florida.
According to Miami-Dade Fire Rescue, the accident happened at about 4:45 p.m. near Southwest 88 Street and Krome Avenue.
First responders said the driver was trapped inside and had to be extricated from the pickup truck, and airlifted to Memorial Hospital West trauma center.
The cause of the accident remains under investigation.
18-wheeler crashes into trees on I-10
In another Florida accident, this one Saturday, March 13, at around 1:40 p.m., a tractor-trailer crashed into a line of trees off eastbound Interstate 10 in Madison, which is East of Tallahassee.
Madison County Fire Rescue and Jefferson County Fire Rescue responded to the accident and report the driver lost control of the truck and appears to have failed to apply the brakes. The truck went across the median before crashing.
The driver had to be extricated from the truck and was airlifted to a local medical facility for treatment by helicopter.
Motorist pulls driver from tractor-trailer crash in Texas
A tractor-trailer crashed and caught fire on northbound U.S. in Lufkin, Texas Saturday, March 13. Lufkin is located about 120 miles north of Houston.
The accident happened around 6 a.m. when the tractor-trailer struck a concrete barrier leading to the U.S. 59 flyover. The truck was hauling two trailers loaded with tractor tires, according to a report on KYTX-TV.
A passing motorist pulled the driver to safety before the truck became completely engulfed in flames. The trucker was transported to a nearby hospital.
The crash remains under investigation.
Truckload of turkeys crashes in Virginia
A tractor-trailer hauling almost 900 live turkeys overturned in Campbell County, Virginia Tuesday morning, March 9. According to Virginia State Police, the accident happened around 6 a.m. on northbound US-29 on the US-460 Bypass ramp.
Virginia State Police say the truck was carrying 873 turkeys. Police say the driver was uninjured and was charged with reckless driving. They say the driver was speeding around the curve of the road.