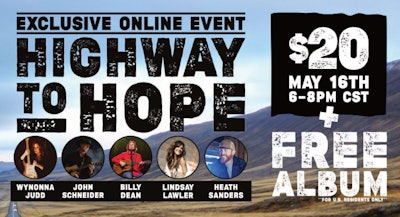 Country music stars Wynonna Judd and John Schneider will be joined by trucking musical favorite Lindsay Lawler in an online concert to benefit a charity that aids truckers in need.
The St. Christopher Truckers Relief Fund will stage "Highway to Hope" on Sunday, May 16, from 6 p.m. to 8 p.m. CST. Also on the bill are Billy Dean and Heath Sanders.
The event will be hosted by Radio Nemo host Jimmy Mac.
Tickets for the live stream event are available for $20 (plus a $2 transaction fee) on the SCF website at livestream.truckersfund.org, which will also be the site for the live stream. A portion of proceeds from the concert will go directly to the SCF to support truck drivers in need. Individual ticket purchasers in the US will receive a free CD from the NASTC Grand O Trucking Show, which includes Lawler and other Nashville singer/songwriters featuring music celebrating the trucking industry. Donations can be made during the live event.
"The first-ever Highway to Hope benefit concert will be a fun virtual event bringing our industry together, at a time when we are far apart, to raise support for SCF and our highway heroes with amazing artists that want to give back to this industry," said Shannon Currier, Director of Philanthropy and Development with St. Christopher Truckers Relief Fund. "We hope you will join us for a night of music and celebration."
The St. Christopher Truckers Development and Relief Fund helps over-the-road and regional drivers and their families when an illness or injury, occurring within the last year, has caused them to be out of work.