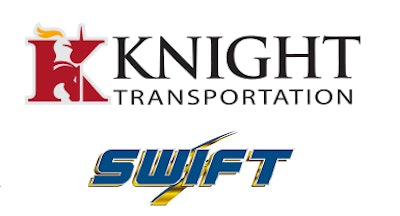 Knight-Swift Transportation Holdings Inc. Tuesday, June 1, announced it has acquired 100% of the equity interests of Kansas City, Missouri-based UTXL, Inc., a major third-party logistics company, specializing in over-the-road full truckload and multi-stop loads in any length of haul throughout the United States, Canada, and Mexico.
The purchase price consideration was about $22.5 million, a portion of which was placed in escrow to secure indemnification obligations, according to a statement from Knight-Swift. UTXL generated over $100 million in operating revenue last year.
"The UTXL team's excellence in providing customer-specific solutions will be an invaluable complement to our Knight-Swift transportation service offerings," said Knight-Swift CEO, Dave Jackson. "UTXL provides outstanding and unique customer service with some of the truckload industry's most demanding service requirements. Knight-Swift will support the UTXL brand and independent operations, consistent with previous acquisitions while leveraging technology and economies of scale to create synergies."
RELATED NEWS: Knight-Swift hikes pay; top exec optimistic about 2021
Paul Schultz, UTXL CEO, said, "When the UTXL ownership group first discussed selling, we made it clear that the future of our people and the cultural fit would be imperative to further discussions with potential buyers. At UTXL we are committed to pursuing perfection and achieving excellence, and we found a similar focus within the Knight-Swift team. We additionally recognized Knight-Swift's commitment to employee development and success, as well as their empowerment of regional management teams, which strongly aligns with our UTXL goals.
"Once UTXL and Knight-Swift began discussions, we quickly realized that we found a dynamic leadership team to support us, as we gain momentum in growing our business and continue to strengthen the UTXL brand. We are proud of our accomplishments at UTXL and excited for the opportunities that are ahead of us, as we embark upon this journey with the Knight-Swift team."