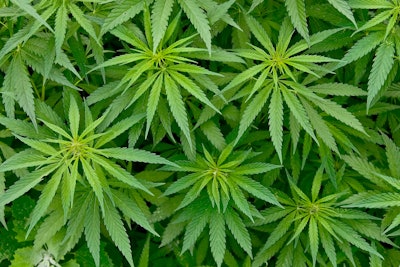 A California trucker was arrested in New Jersey last week when state police there found over 120 pounds of marijuana and THC products during a safety inspection.
The New Jersey State Police said they arrested Storm Zhu, 37, of Hacienda Heights, California after they seized more than $850,000 worth of marijuana and THC products during a commercial vehicle inspection in Warren County.
On June 14, Trooper Joseph Seidler, of the Mobile Safe Freight Training Unit, stopped a tractor-trailer driven by Zhu eastbound on Interstate 78 at the truck weigh station in Greenwich Township to conduct a safety inspection. During the inspection, Trooper Seidler detected evidence of criminal activity and located several boxes throughout the load that were not consistent with the legitimate cargo. As a result, Seidler searched the boxes and discovered 121 pounds of marijuana and THC products.
Zhu was arrested and charged with possession of a controlled dangerous substance and possession with intent to distribute. He was lodged at the Warren County Correctional Center pending a detention hearing.
"This seizure was a result of the diligent work of the New Jersey State Police Mobile Safe Freight Training Unit, which is comprised of highly-trained troopers who are not just committed to commercial vehicle safety inspections; they are conducting interdiction operations to identify traffickers using commercial vehicles to transport illegal goods," said Colonel Patrick J. Callahan, superintendent of the New Jersey State Police. "These inspections are not only important in ensuring the safety of the commercial vehicles on our roadways, but they also serve to preserve the integrity of businesses operating legitimately to transport goods across our state."
This case is being prosecuted by the Warren County Prosecutor's Office. Charges are mere accusations, and the accused is considered innocent until proven guilty.