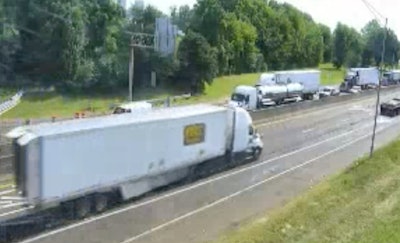 Work continues on repairs to the Interstate 40 bridge between Arkansas and Tennessee as authorities await the final report of a comprehensive inspection of the entire span over the Mississippi River.
A regular update Monday, June 28, on construction progress on the bridge said, "As 24/7 operations continue, the contractor is making significant progress on the repairs. They now have seven of the eight permanent plates in place. The drilling and bolting of these plates are ongoing. Fabrication of other miscellaneous steel components continues, and delivery is expected this week."
The bridge has been closed to traffic since a large crack was found in a supporting beam May 11. Reopening of the span, which is a key frieght crossing, is expected no earlier than the end of July.
Two new cameras have been installed to monitor traffic at the Interstate 55 Crump Interchange and show construction progress on the I-40 bridge. Traffic from I-40 has been diverted over the I-55 bridge.
This camera shows I-40 construction progress.
This camera shows traffic on I-55 bridge.
The Tennessee DOT said it has HELP trucks are stationed on both sides of the I-55 bridge to respond quickly to any incidents and keep lanes open.
Below are links to cameras posted at the east and west approaches of I-55 for live traffic information.
West Approach to I-55 River Crossing