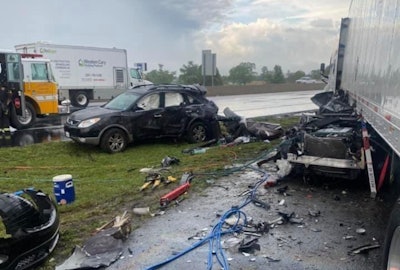 Hedgesville Volunteer Fire Department
Two truck drivers died late last week when they stopped to help victims at an accident scene on southbound Interstate 81 in West Virginia and were struck by another vehicle.
The Berkeley County Sheriff's office reports Adam T. Miller, 53, of Hagerstown, and Ashish P. Patel, 46, of Ontario, Canada, died Thursday morning, July 1. A statement from the sheriff's office said their deaths were the result of two separate crashes at the onramp to southbound I-81 from the rest area near the 19.5 mile marker south of Spring Mills, between Hagerstown, Maryland and Martinsburg.
In the first crash, a southbound car went out of control, crossed a grass median and struck a parked tractor-trailer. A southbound SUV also went out of control, crossed the median and hit the first car, wedging it under the trailer, police said in a statement.
The two truckers who stopped to help were on foot when another SUV also went out of control, crossed the median, and struck them and the parked tractor-trailer.
Investigators believe weather and speed "were significant factors in the incident," according to the release. Heavy rains were falling at the time of the collisions.