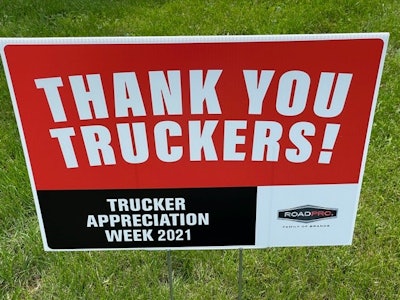 Truck stops, trucking industry suppliers, carriers, and individuals will show America's truck drivers extra recognition this coming week as National truck Driver Appreciation Week begins Sunday, Sept. 12.
This special week to acknowledge the often-overlooked work of truck drivers of all stripes once again will be observed against the backdrop of the COVID-19 pandemic and the added demands it makes of the men and women who deliver this nation's freight.
Individual employers will recognize their drivers, while a number of businesses have plans to thank all truckers. Here are some of the activities on the week's schedule.
RoadPro Family of Brands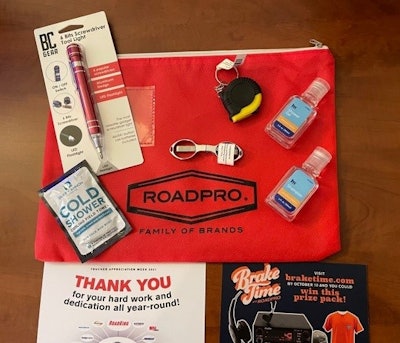 The RoadPro Family of Brands' Pro Driver Council will once again be handing out goodie bags to drivers throughout the country. Each bag will have shampoo and shower gel, Duke Cannon's shower wipes, nail scissors, a small tape measure, and one of RoadPro's new BC Gear tools. Also, Inside the goodie bag will be a special offer to join RoadPro's Brake Time community and the recipient trucker will be entered to win a prize pack that includes one of the new RoadKing HandsFree CB Radios.
RoadPro will also be supporting several trucking companies with raffle prizes and gifts to their drivers.
Members of the RoadPro staff will also visit a local trucking company during their appreciation week celebration and be thanking truckers for what they do.
There will also be another Trucker Appreciation Virtual Concert on the RoadPro Facebook page featuring Paul Marhoefer, Mandi Jo Brown, Ken Freeman, Bill Weaver, and Taylor Barker.
RoadPro will also be "Thank You Truckers" signs in yards and businesses in the area with high truck traffic, and offers this appreciation of drivers.
TravelCenters of America
To celebrate truckers, TA hosts events at sites nationwide, offering deals in its TruckSmart app and holding a #TADriverAppreciation social media campaign to surprise drivers with prizes.
When visiting the TruckSmart app, drivers will find deals all week long on a variety of merchandise. Sites nationwide will hold special events for drivers, including complimentary cookouts, health and wellness checks, entertainment activities, window washing, mid-trip inspections and tire inspections, and more.
Drivers who follow and comment on #TADriverAppreciation posts during the week will randomly be chosen to receive gift packages. The social media campaign also features a Driver Appreciation Sweepstakes, with one lucky driver chosen each day to receive a special giveaway.
See what's happening at specific TA locations during appreciation week.
Jubitz Truck Stop
Jubitz Truck Stop hosts its annual Driver Appreciation Day event Sept. 15.
This year's event will have a free barbecue lunch for anyone with a CDL from 9 a.m. to 2 p.m., or until supplies run out. Truck drivers will receive free swag bags filled with a variety of prizes from Jubitz and its sponsors.
The event will take place at Jubitz's main campus in Portland, Oregon, outside the Cascade Grill with portions of the event indoors. The event will follow all local and state mandates regarding COVID-19 at the time of the event.
The event is sponsored by TEC Equipment, McCoy Freightliner, DAT Solutions, Harbor Wholesale, Lynco Products, Daimler, OOIDA, Strive Workplace Solutions, Pacific Northwest Truck Museum, AM-BEST, West Coast Coffee, Sysco Portland, Franz Bakery and Duck Delivery Produce.
Love's
Love's Travel Stops is celebrating National Truck Driver Appreciation Week throughout all of September.
The company is giving away 14 million My Love Rewards points during the month, including hundreds of daily winners and a 1-million-point winner at the end of the month. Drivers can also take advantage of deals on fresh food, snacks and drinks, free food with an oil change and special deals Sept. 12-18 for My Love Rewards members.
Each time drivers swipe their My Love Rewards card during the month of September, they'll be entered for a chance to win 1,000 or 2,000 My Love Rewards points daily. They'll also be entered for a chance to win 1 million My Love Rewards points at the end of the month. Daily winners will be notified by email.
Additional offers include:
Free Hot to Go sandwich or Fresh to Go salad with any oil change at Speedco or Love's Truck Care (Sept. 12-18).
Fresh food, snack and drink deals each weekday.
Special deals for My Love Rewards members Sept. 12-18.
Free Love's hat with the purchase of two pairs of gloves for $24.99.
Pilot/Flying J
To celebrate NTDAW, Pilot is encouraging everyone to join in bringing back the "Trucker Salute" arm pump and will be rewarding professional drivers all month with free drinks, bonus loyalty points and more perks.
Using Pilot's myRewards Plus app, truck drivers can redeem a free drink of choice from each day's brand family or beverage category on Mondays, Wednesdays and Fridays throughout the month; free showers all month with shower power after one 50+ gallon commercial diesel fill; and earn bonus points with several ways to boost loyalty earnings throughout September.
Additionally, to help bring back the beloved tradition, Pilot is asking the public to share a video of a "Trucker Salute" on social media, and Pilot will donate $5 to Trucking Moves America Forward for each post that tags @PilotFlyingJ and uses #ThankATrucker, up to $25,000. TMAF is an educational movement to recognize the importance of the trucking industry and professional drivers.Finally, Pilot is also accepting nominations throughout September for its 2021 Road Warrior contest as part of its Driver Appreciation celebration. The annual Road Warrior contest will honor truck drivers who have gone above and beyond to keep America moving.
From now through Sept. 30, anyone can nominate a U.S.-based truck driver for the chance to be named a 2021 Road Warrior. The hardworking haulers will be awarded a grand prize of $10,000, $5,000 for second place and $2,500 for third place.
New to this year's contest, nominations will be accepted directly on the Pilot Flying J Facebook page to make the submission process easier. To enter, people can comment on the pinned Road Warrior post with a story recognizing a professional truck driver for going above and beyond. Readers can also submit nominations during the entry period on the Road Warrior website.
Road Warrior winners will be announced in mid-October and are selected based upon the story submission, including contributions to the trucking industry, safe driving history, miles driven and community involvement.
The Driver Appreciation celebration continues with special perks and offerings from September 1 – 30 exclusively for professional drivers in the myRewards PlusTM app*, including:
- Free drink of choice* from each day's brand family or beverage category on Mondays, Wednesdays and Fridays throughout the month. Offer details on eligible products are available in the myRewards PlusTM
- Free showers all month* with shower power after one 50+ gallon commercial diesel fill
- Earn bonus points* with several ways to boost loyalty earnings throughout September