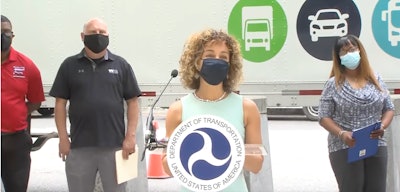 Federal Motor Carrier Safety Administration Deputy Administrator Meera Joshi today praised truckers for their "vital work" during a National Truck Driver Appreciation Week ceremony in Washington, D.C.
Joshi, who is scheduled to appear at a Senate Commerce Committee confirmation hearing Wednesday, Sept. 22, thanked truckers for working in person throughout the COVID-19 pandemic and cited their commitment to highway safety.
"It's truly a deep and special honor to be here today to recognize our nation's truck drivers and the important work they do," said Joshi.
She added that truckers are relied upon to deliver more than 70% of the freight that moves in the U.S. Joshi said the pandemic, the rise of e-commerce, and climate crises made "their critical role is even more evident."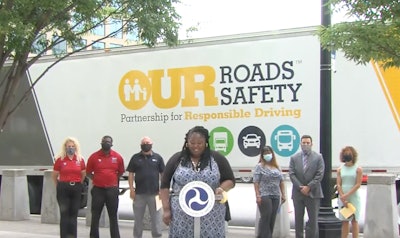 Speaking in front of a tractor-trailer with an "Our Roads. Our safety." wrap, Joshi emphasized the role truckers play in highway safety.
"Truckers, with their broad highway presence, set the tone for highway driving," she said. "Their safe driving is a model for fellow truck drivers and all road users. Most of all, careful, professional drivers, attentive to their driving, are saving lives every day, and that's key to reversing the multi-year trend of rising crash and fatality rates."
Joshi was joined by three truck drivers, who also spoke at the event.
Angelique Temple, a driver for Atlantic Bulk Carrier, said she was just 12 years old when she realized she wanted to be a professional truck driver. That girlhood dream came true and she has been in the industry for more than 20 years and logged more than 3 million accident-free miles.
She said her trucking career also allowed her to be a successful mother to her six children.
"I'm grateful each day to call myself a professional trucker," said Temple. "This has been an awesome career."
Also speaking at the event was Teddy Cranford from Waste Management of Maryland. He's been in the business for some 30 years, following in his father's footsteps. And, Cranford's son also works for Waste Management.
Cranford said that when much of the country's workforce was shut down during the early days of the COVID-19 pandemic, his industry did not stop ensuring the public's health.
Henry Bruster has been driving for UPS freight for more than 20 years. During the gathering, he said that as a boy growing up in rural Louisiana, he was fascinated by the truck that made deliveries of online purchases to his home. After high school, he joined the Army where he learned the importance of logistics.
Bruster joined the trucking industry after retiring from the Army as a sergeant. He has since logged 1.8 million safe miles in 23 years on the road.
"I enjoy that every day presents a different challenge," said Bruster. "I take pride in what I do, and tell others on the road, to be nice, be kind, be respectful but most of all be safe."
Also speaking at the NTDAW event was Department of Transportation Under Secretary of Transportation for Policy Carlos Monje, who said that truckers' "work is crucial to the economy, public health, and highway safety."
Monje praised truckers for being on the road no matter what else was going on. He credited them for working in-person throughout the COVID-19 pandemic and responding with life-saving supplies during wildfires and weather disasters like Hurricane Ida.
During his speech, Monje mentioned the passage of infrastructure legislation in the Senate that will help keep more truck drivers on the road. He said the bill will help states create rest areas that'll be beneficial to truckers. Monje also said the bill includes provisions to research driver pay "so our nation can retain and recruit safe truck driving professionals."