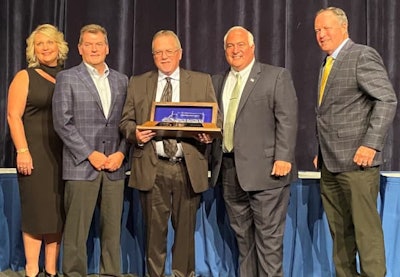 Roehl Transport recently received the President's Trophy from the American Trucking Associations. The award is given annually to the trucking company that is judged most outstanding based on its safety record, programs and community outreach.
This marks the fourth time Roehl has won the award, which was accepted by CEO Rick Roehl; John Spiros, vice president of safety and claims management; and Adrian Wheeler, the company's safety director. The presentation occurred at the ATA's Safety Management Council's Safety, Security & Human Resources National Convention in Indianapolis.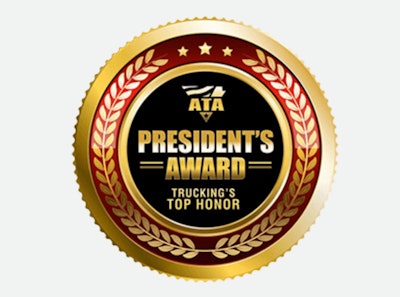 "At Roehl Transport, safety is our cornerstone value," Spiros shared. "I'm so proud of our team's commitment to safety and to driving the Roehl Way to Protect Others."
RELATED NEWS: Roehl increases driver pay for second time this year
The ATA President's Trophy recognizes the best trucking companies in three categories:
fleets under 25 million miles
fleets between 25 to 100 million miles
fleets with over 100 million miles.
Roehl won in the over 100 million miles category.
To be eligible for the award, companies must submit safety data that is independently verified, and they must finish in the top three for safety results. The top three are then evaluated by leading motor carrier safety professionals and commercial enforcement personnel. Roehl Transport has finished in the top three for safety results every year since 2003 and in 2008, Roehl was the first truckload carrier to win the President's Trophy. Now, with four awards, Roehl Transport is the only truckload carrier to have won the President's Trophy multiple times.
"Year-after-year and mile-after-mile, our teammates bring our value of safety to life," Spiros continued. "Winning the ATA President's Award for the fourth time reinforces that our drivers are leaders."
Headquartered in Wisconsin, the company also has major terminals in Arizona, Georgia, Indiana, Michigan, and Texas and provides transportation and logistics services to customers across North America.