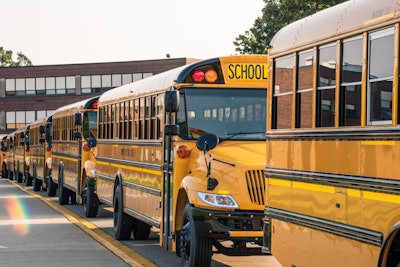 It's not all that unusual for individuals, companies or trade associations to seek exemptions from parts of federal commercial vehicle regulations. Such requests are usually narrowly drawn, modest and in response to a special situation.
However, it's far different for an elected official to ask that an entire class of drivers be exempted from a broad and fundamental regulatory requirement.
But, that's what Rep. Joe Morelle, a Democrat representing the part of Upstate New York that includes the City of Rochester, has done. Morelle recently asked U.S. Secretary of Transportation Pete Buttigieg to waive the commercial driver's license requirement for school bus drivers.
The congressman's request comes as the Rochester City School District claims it faces a "transportation crisis" because it cannot hire enough bus drivers as the new school year gets under way.
Rochester, like many school districts across the country, is having difficulty finding bus drivers. Joanna McFarland, co-founder and CEO of the school ride service company HopSkipDrive, told The Associated Press that in March, "nearly 80 percent of districts that responded were having trouble finding enough bus drivers."
As in the trucking industry, many school districts have increased pay and are offering signing bonuses. One district has gone so far as to pay parents to drive their children to school. And, the 250 members of the Massachusetts National Guard has been called out to drive buses in school districts in that state.
In his letter to Buttigieg, Morelle wrote:
"Existing commercial driver's license requirements are making it difficult for states, schools, and employers to hire new school bus drivers. This is worsening existing shortages and will make it harder for students to go back to school in the fall.
"As you are aware, while different states, schools, and employers may ask for different requirements to drive a school bus, employers in all states will look for a CDL. Individual states may further specify if a driver needs a Class A, B, or C designation, as well as P (passenger) and S (school bus) endorsements. While I understand the importance of the CDL in providing valuable information related to vehicle systems, operation, and state rules and regulations, these requirements are exacerbating a shortage of school bus drivers that was present even before the pandemic. Furthermore, as states, schools, and employers are faced with new challenges related to the current labor market, these requirements are only making it harder for them to hire qualified applicants.
" I urge you to consider waiving the required CDL for school bus drivers to help address the driver shortages exacerbated by the COVID-19 pandemic."
Morrelle asked that Buttigieg pursue the school bus-specific license that would waive the repair-oriented, under-the-hood vehicle inspection requirements of the CDL. He says eliminating this requirement would allow more people to apply for these positions.