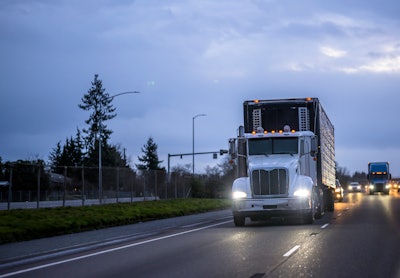 The Federal Motor Carrier Safety Administration has again extended some emergency waivers and exemptions enacted in response to the ongoing COVID-19 pandemic.
The agency's emergency declaration as well as its licensing and medical-card waivers were due to expire on Aug. 31. It was extended to Nov. 30.
The emergency exemption provides hours-of-service relief to motor carriers providing direct assistance to pandemic relief efforts. This latest three-month extension includes some new restrictions.
Also included in this new exemption declaration is a requirement that carriers report their usage of the exemption to the FMCSA. Motor carriers that use the exemption must log in to their FMCSA portal account within five days after the end of each month to report their use of the exemption.
RELATED NEWS: What will you do if your company requires you to get COVID vaccination?
The new exemption continues to apply to the transportation of:
Livestock and livestock feed
Medical and sanitation supplies, vaccines, and related products and equipment for the testing, diagnosis, and treatment of COVID-19, and for community safety, sanitation, and prevention of community transmission of COVID-19
Food, paper products, and other groceries for emergency restocking of distribution centers or stores
New to the list, as of today are:
Gasoline, diesel, jet fuel, and ethyl alcohol
Supplies to assist individuals impacted by the consequences of the COVID-19 pandemic
Direct assistance does not include non-emergency transportation of qualifying commodities or routine commercial deliveries, including mixed loads with a nominal quantity of qualifying emergency relief added to obtain the benefits of this emergency declaration. To be eligible for the exemption, the transportation must be both of qualifying commodities and related to the immediate restoration of those essential supplies.
The agency said it decided to extend the declaration because "the presidentially declared emergency remains in place and because, although the number of COVID-19 cases began to decline in the U.S. following widespread introduction of vaccinations, the delta variant and lagging vaccination rates reversed that downward trajectory and have resulted in a rapid rise in infections and hospitalizations around the country."