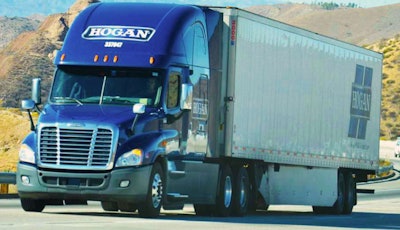 St. Louis-based Hogan Transportation was among the trucking companies, private fleets, and others honored with the SmartWay Excellence Award from the U.S. Environmental Protection Agency. The awards were announced by the EPA earlier this week.
A statement from Hogan said the company has adopted fuel-saving strategies including auxiliary power units, speed restrictions, halos, trailer skirts, fuel-efficient tires, and longer side extenders. Hogan said it also works to update its fleet in order to have newer trucks on the road emitting less carbon dioxide, nitrous oxide, and particulate matter.
"Hogan has been a registered SmartWay Partner since 2008," said Mike Carroll, Hogan Transportation fuel manager. "It is important to Hogan and our customers that we work to improve our environmental footprint every year. SmartWay helps us achieve these goals and save on fuel costs as a result. Receiving the SmartWay Excellence Award is a validation of all the hard work from our drivers and mechanics to keep fuel efficiency high."
Hogan Transportation was one of 62 truck and multimodal carriers to receive this distinction, representing the best environmental performers of SmartWay's nearly 4,000 Partners. This year's awards were announced at a virtual press event hosted by the EPA with its SmartWay Partners, key stakeholders, and media in attendance.
"For 17 years the SmartWay Transport Partnership has worked together with stakeholders in the freight industry to find innovative ways to reduce pollution from goods movement," said Sarah Dunham, director of EPA's Office of Transportation and Air Quality, "We commend the innovation, drive, and collaborative spirit of our partners whose efforts are helping to meet the challenge of climate change and to create a healthier environment for us all."