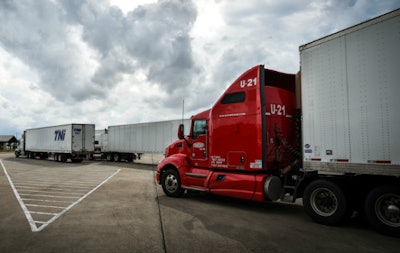 The U.S. trucking industry moved 10.23 billion tons of freight in 2020, down somewhat from 2019, and generated $732.3 billion in revenue, according to the latest edition of American Trucking Associations' American Trucking Trends 2021.
The ATA's annual report on the industry also found:
In 2020, trucks moved 10.23 billion tons of freight – down from 11.84 billion tons the previous year
The industry collected 80.4% of the nation's freight bill, unchanged from the previous year, while generating $732.3 billion
Trucking employed 7.65 million people in industry-related jobs, including 3.36 million professional truck drivers
Women made up 7.8% of the nation's drivers – an all-time high
Minorities account for 42.3% of truck drivers
Fully 91.5% of fleets operate six or fewer trucks, and 97.4% operate less than 20.
Trucks moved 70.9% of the value of surface trade between the U.S. and Canada and 83.8% of cross-border trade with Mexico, for a total of $695 billion worth of goods.
."We knew that the pandemic had a significant impact on our industry, but this year's Trends shows that despite those challenges, the trucking industry remained our nation's lifeline," said ATA Chief Economist Bob Costello.
Chairman of House Transportation Committee to retire
Rep. Peter DeFazio (D-Oregon) Wednesday, Dec. 1, said he planned to retire from Congress next year. He is 74 years old and has served in Congress 36 years.
DeFazio serves as the chairman of the House Transportation and Infrastructure Committee.
He is the 19th House Democrat to not run for reelection in 2022.
"It's time for me to pass the baton to the next generation so I can focus on my health and well-being," said DeFazio in a statement. "This was a tough decision at a challenging time for our republic with the very pillars of our democracy under threat, but I am bolstered by the passion and principles of my colleagues in Congress and the ingenuity and determination of young Americans who are civically engaged and working for change."
TCA names D.M. Bowman exec as its new president
Jim Ward, president and CEO of Williamsport, Maryland-based D. M. Bowman has been named president of the Truckload Carriers Association.
Ward succeeds TCA President John Lyboldt, who had announced plans to retire April 1.
Ward will soon retire from his role at D. M. Bowman as he assumes TCA's leadership post, and currently serves as TCA's volunteer chair – a term that expires in March 2022. Ward will serve out his term as TCA chair while transitioning into and assuming the president's role at the March 2022 TCA Annual Conference in Las Vegas.
In addition to more than two decades at D. M. Bowman, Ward's extensive transportation leadership experience includes serving as managing director of Willis Towers Watson's transportation division, where he provided risk management and safety services to multiple transportation clients.