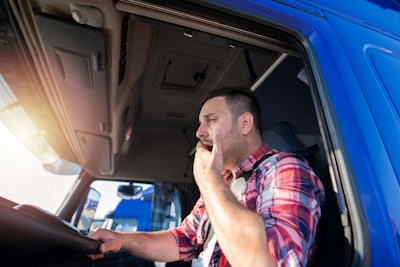 The Commercial Vehicle Safety Alliance is now home to the North American Fatigue Management Program, a training program aimed at preventing fatigue-related risks and crashes and encourages corporate cultures that work to eliminate driver fatigue.
CVSA was tasked by the Federal Motor Carrier Safety Administration with the management and evolution of the NAFMP. The NAFMP steering committee includes Transport Canada, working closely with FMCSA to support the program.
The NAFMP was developed by medical and sleep scientists from Canada and the United States through a multi-year, four-phase comprehensive process. The program aims to prevent driver fatigue and eliminate fatigue-related crashes by:
Offering easy-to-access online fatigue prevention training and education to commercial motor vehicle drivers, motor carrier executives and managers, freight shippers and receivers, dispatchers, driver managers, driver's spouses and families, safety managers and trainers, etc.
Encouraging a motor carrier safety culture that proactively considers situations that may contribute to driver fatigue and fights to prevent it
Identifying sleep disorders and treatment options
Utilizing driver fatigue management technologies
In addition, CVSA says it plans to improve the program by:
Hosting live and recorded Q&A sessions
Offering a moderated forum where users may ask questions and provide feedback
Offering information sessions at CVSA events and conferences
Hosting program and steering committee meetings to discuss program improvements
Offering webinars on various topics relevant to fatigue management
Offering Spanish content in addition to English and French
Carriers can earn more about the NAFMP and how to implement a fatigue management program by visiting the NAFMP website. Download a step-by-step implementation manual and register in the eLearning platform for the program courses.
For more information, contact CVSA Fatigue Management Program Specialist Rodolfo Giacoman via email or at 301-830-6155.