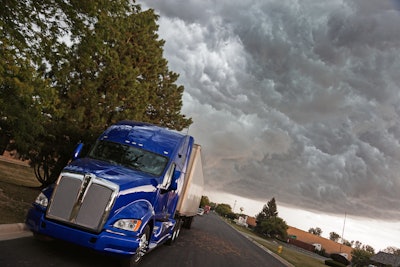 A national disaster relief organization recently announced the names of its 2021 Humanitarian Logistics Awards winners.
The American Logistics Aid Network presented its Outstanding Contribution to Disaster Relief Award to CEVA Logistics, Palmer Logistics, Core-Mark International, J.B. Hunt Transport Services, and the American Trucking Associations.
CEVA Logistics earned its award for moving supplies to Native American tribes and various nonprofits throughout the COVID-19 crisis and after the Oregon fires.
Palmer Logistics was honored for providing short-term storage of hospital beds on behalf of a medical nonprofit and for its ongoing support of the U.S. Agency for International Development.
Core-Mark International received its honor for the long-term loan of two freezer tractor-trailers and driver resources to the Arkansas Food Bank. These donations were used to distribute two million extra pounds of donated food during COVID-19.
J.B. Hunt Transport Services earned its award for making multiple compassionate moves during 2020 and 2021, including helping ALAN and the Salvation Army distribute meal kits.
ATA was recognized for providing two of its trucks and drivers to deliver shipments of food, cleaning supplies, personal protective equipment (PPE), and medical supplies throughout the COVID-19 pandemic.
Tucker Company Worldwide and Truckstop.com received ALAN's Director Partnership Award. Tucker Company Worldwide supported ALAN's analytical efforts during the pandemic, while Truckstop.com consistently shared information about freight marketing activities with members of ALAN's partner network during various crises.
ATA forecasts continued freight growth in future
The American Trucking Associations released its annual look at the future of the freight economy – U.S. Freight Transportation Forecast 2021 to 2032 – that it says shows a "strong rebound and continued growth for freight demand this year and into the future."
Some key findings of this year's forecast:
Total freight tonnage will grow from an estimated 15.1 billion tons in 2021 to 19.3 billion tons in 2032 – a 28% increase.
While truck's share of the freight tonnage will slowly decline from 72.2% in 2021 to 71% in 2032 – overall volumes will grow across all segments of the industry: truckload, less-than-truckload and private carrier. Truck tonnage should grow from 10.23 billion tons this year to 13.7 billion tons in 2023.
The total revenue derived from primary freight shipments in the U.S. will increase from an estimated $1.083 trillion in 2021 to $1.627 trillion in 2032.
"With a focus on the supply chain this year, it is key we understand that among the many stressors on the system, the simple growth in freight demand and the economy is a significant factor," said ATA Chief Economist Bob Costello. "After falling 6.8% in 2020, freight volumes are set to surge 7.4% this year – and we will see continued growth in freight demand across all modes for the foreseeable future."
Group seeks to recognize top woman driver
The Women In Trucking Association is seeking nominations for the annual Driver of the Year award sponsored by Walmart.
The third annual award recognizes exceptional female professional drivers who lead the industry in safety standards while also working to enhance the public image of the trucking industry.
The application is open to any female driver who has safely driven at least one million consecutive, accident-free miles. Nominees must demonstrate a positive contribution to the trucking industry and their community.
The finalists and overall winner will be recognized at the 2022 Salute to Women Behind the Wheel event at the Mid-America Trucking Show (MATS) in Louisville, Ky. on Friday, March 25. The winner will be chosen based on her safety record, positive community contributions, and impact on the public image of the trucking industry. She will receive a plaque, commemorative ring, and more.
"Each year we become more amazed at both the quality and the quantity of drivers nominated for this prestigious award," said Ellen Voie, WIT president and CEO. "If you know of a female driver who deserves to be recognized, we ask that you submit her information so we can recognize her for her exceptional service to the industry."
Nomination forms can be submitted at https://www.womenintrucking.org/female-driver-of-the-year. Nominations are due Feb. 1.
ICYMI
Trucking and truckers react to Biden driver recruiting & retention plan
100 million holiday travelers will pack the highways Dec. 23 through Jan. 2
380 parking spots available at 5 new Love's opening today
Give A Listen/Take A Look