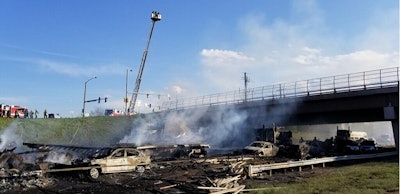 West Metro Fire
The driver of a tractor-trailer that slammed into stopped traffic on Interstate 70 near Denver in 2019 has been sentenced to 110 years in prison. Four people died in the fiery crash.
He received his sentence Monday, Dec. 13.
Rogel Aguilera-Mederos, 26, was driving a tractor-trailer loaded with lumber when he crashed into more than two dozen stopped vehicles and four semitrailers on I-70 in Lakewood.
A jury found Aguilera-Mederos guilty of 27 counts in October:
four counts of vehicular homicide
two counts of ehicular assault
six counts of assault in the first degree – extreme indifference
10 counts of criminal attempt to commit assault in the first degree
one count of Reckless driving
four counts of careless driving causing death
He was found not guilty of 15 counts of criminal attempts to commit assault in the first degree.
During his trial, Aguilera-Mederos said the brakes on the truck failed as he descended the mountains in April of 2019. He was unable to avoid traffic that was stopped for an earlier accident. Aguilera-Mederos was 23 years old at the time of the crash.